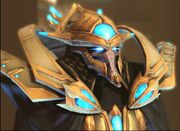 Hierarch is a rank in the Daelaam in protoss society.[1] The hierarch is the designated leader of the Hierarchy, and as such is effectively the absolute leader of the Daelaam.
The first and current hierarch is Artanis. Following the formation of the Hierarchy, the remnants of the Judicator Caste, in agreement with the clans of the Nerazim, elected him to the position.[2]
In protoss culture, there is a formal greeting protocol when first addressing the Hierarch in a diplomatic situation.[3]
Known Hierarchs
Edit
References
Edit
Ad blocker interference detected!
Wikia is a free-to-use site that makes money from advertising. We have a modified experience for viewers using ad blockers

Wikia is not accessible if you've made further modifications. Remove the custom ad blocker rule(s) and the page will load as expected.