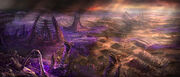 A hive cluster is a zerg colony or base.
The term was used frequently throughout StarCraft,[1][2][3][4] StarCraft: Brood War,[5][6][7][8][9][10][11] StarCraft II: Wings of Liberty,[12][13] and StarCraft II: Heart of the Swarm.[14][15][16][17][18][19][20][21][22]
The term hatchery cluster has sometimes been used as well.[23]
References
Edit
Ad blocker interference detected!
Wikia is a free-to-use site that makes money from advertising. We have a modified experience for viewers using ad blockers

Wikia is not accessible if you've made further modifications. Remove the custom ad blocker rule(s) and the page will load as expected.