Hybrid
Unit
Race
Affiliation

Hybrids

Armament
Properties
Maximum energy

250

Detection range

Yes

Movement

Speed

2.81

Protection
Hit points

1600

Armor

1

Type
Claws
Damage

20

Targets

Cooldown

2

Range

2
The Castanar hybrid was a powerful hybrid reaver created and imprisoned at a secret Dominion facility at Castanar.[1]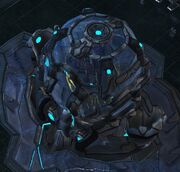 It was accidentally released by Raynor's Raiders when they destroyed the facility's power core, and went on a rampage throughout the facility, killing terrans (of both factions), zerg and protoss alike. The Raiders escaped in a Hercules dropship, prompting it to "scream" as they did so.[1]
Its scream was so powerful that it was felt by telepaths aboard Hyperion.[2]
Game Unit
Edit
Abilities
Edit
During its rampage, it only uses Consume DNA on the protoss and zerg it encounters.[1]
The Castanar hybrid was invincible in the game mission itself, prompting the player to focus on escaping.[1]
Visible on the computer screens are the following information of the hybrid:

Synthetic DNA restoration 36% completed
Genetic mutations found in chromosome 12, 18
Probability of time-shift mutation ~ 13%
The rest of the installation equipment details are rather vague/fuzzy to make out:
Warning!
Subject showing increasing signs of aggression:

______ - 13.3
Blood acidity - 4.7

Stasis Parameters
Local Mutations Found
Code 109B592
Code 926
References
Edit
Ad blocker interference detected!
Wikia is a free-to-use site that makes money from advertising. We have a modified experience for viewers using ad blockers

Wikia is not accessible if you've made further modifications. Remove the custom ad blocker rule(s) and the page will load as expected.