You may be looking for:
The hybrid reaver is an extremely powerful zerg-based type of hybrid.[1] They are capable of basic speech, and can exert control over zerg.[2]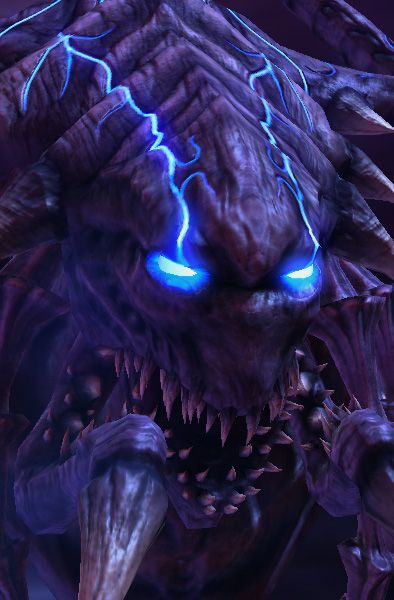 A hybrid reaver was created in a secret Terran Dominion facility at Castanar.[3]
Raynor's Raiders discovered the creature and destroyed its holding cell. When the cell was destroyed, the reaver then proceeded to destroy the facility. The Raiders barely escaped into a Hercules, after which the reaver "screamed" at them.[3]
Armageddon
Edit
In a dark apocalyptic future foreseen by the Overmind and others through it, many hybrid reavers were deployed to help destroy the protoss during their last stand.[4]
Skygeirr Station
Edit
Sarah Kerrigan and her zerg minions encountered many hybrid reavers on Skygeirr Station. These reavers, along with a band of Tal'darim protoss, were under the control of the shapeshifter Emil Narud.[5]
Legacy of the Void
Edit
"This is the end of your race."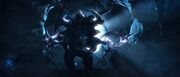 Hybrid reavers were encountered on Aiur during the Golden Armada's invasion of the planet. They directed zerg against the Daelaam invaders. However, they were slain.[2]
Later on Cybros, Ulnar, Slayn and return back to Aiur, the Daelaam battled the variant of hybrid reaver called "behemoth". Where it is command by Amon allies to foil the plan of Protoss to remake the universe by his image. The behemoth were more powerful than the normal reaver and had same abilities of Castanar. [3]
Game Unit
Edit
Hybrid Reaver
Unit
Race
Armament

Claws

Properties

Detection range

Yes (HotS)

Movement

Speed

2.81

Protection
Hit points

1000 (WoL)
2000(Hots)
1000 (LotV)

Hit point
regen/second

Yes

Armor
Type

Biological

Armor type

Armored

Claws
Damage

48 (WoL)
15 (+15 vs armored) (HotS)
(+20 vs structure) (HotS)
30 (LotV)

Targets

Cooldown

2

Range

Melee

Upgrade/level

+5 (WoL)
+2/+1 vs armored (HotS)
The hybrid reaver is seen in In Utter Darkness[4] and a particularly powerful one is seen in Piercing the Shroud.[3] Unlike the hybrid destroyer, reavers focus on physical attacks.
Acquisition
Level 1
Level 2
| | |
| --- | --- |
| Cost | 150 150 190 |
| Required | Lair |
Level 3
| | |
| --- | --- |
| Cost | 200 200 220 |
| Required | Hive |
+1 bonus to armor per level for zerg ground units.
Acquisition
Level 1
Level 2
| | |
| --- | --- |
| Cost | 225 225 190 |
| Required | Lair |
Level 3
| | |
| --- | --- |
| Cost | 300 300 220 |
| Required | Hive |
Development
Edit
The following section contains information from a previous version of StarCraft II which is no longer valid.
Originally the protoss-based hybrid destroyer was the only type of hybrid unit in StarCraft II. The idea of a zerg-based hybrid had been pitched by Samwise Didier in concept art,[1] (labelled as a "high breed")[6] but was effectively abandoned for a year. Eventually the idea of a zerg-based hybrid was pitched within the design team and Didier's concept was resurrected as the hybrid viper. In the final game it was known as the hybrid reaver—mostly the same, but unlike the viper, it had tentacles coming off its back,[1] that aren't visible on lower graphic settings (the player must set "effects" to medium or above).
Known Reavers
Edit
Its quotes are the same as those of the archon.
References
Edit