"Take your shot at life."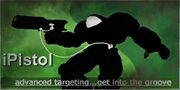 The iPistol is a terran firearm. It has an advanced targeting system and is attached to the wielder by a cord, typically at the waist.[1]
It is extensively advertised in Metalopolis[2] and Augustgrad.[3]
According to game files, Jim Raynor is the marine featured in the iPistol advertisment.[4]
The iPistol stylistically resembles the iPod.
References
Edit