The infested bunker is a zerg structure.
Game Structure
Edit
The infested bunker works similarly to a terran bunker. Most can only load terran infantry. If viewed in a custom map, the tooltip says "must be destroyed if infested".
Multiple infested bunkers were found by Zeratul at an infested terran base on Aiur.[1] More could be found on Meinhoff when it was infested.[2]
The infested bunker appears numerous times in the StarCraft II: Heart of the Swarm campaign,[3] and in the mission The Host of the Legacy of the Void campaign.[4]
Functional infested bunkers, containing infested marines, appear in Nova Covert Ops in the mission "Night Terrors".[5]
The infested bunker is also found in Left 2 Die. In that mission, at least one infested marine can fit inside one, and it emerges when the infested bunker is destroyed.[6]
Development
Edit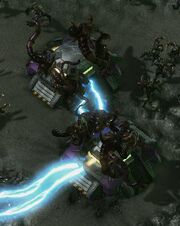 The infested bunker was going to be a produceable campaign unit for Heart of the Swarm, it would have spawned by emerging from underneath a terran bunker, warping the metal into itself, gaining a back-mounted cannon in the process.[7]
References
Edit
↑ Blizzard Entertainment. StarCraft II: Wings of Liberty. (Activision Blizzard). PC. Mission: Wings of Liberty, Echoes of the Future (in English). 2010-07-27.
↑ Blizzard Entertainment. StarCraft II: Wings of Liberty. (Activision Blizzard). PC. Mission: Wings of Liberty, Outbreak (in English). 2010-07-27.
↑ Blizzard Entertainment. StarCraft II: Heart of the Swarm. (Activision Blizzard). PC. Mission: Heart of the Swarm, Domination (in English). 2013-03-12.
↑ Blizzard Entertainment. StarCraft II: Legacy of the Void. (Activision Blizzard). PC. Mission: The Host. (in English). November 10, 2015
↑ Blizzard Entertainment. StarCraft II. (Activision Blizzard). PC. Mission: Nova Covert Ops, Night Terrors (in English). 2016-08-02.
↑ Blizzard Entertainment. StarCraft II. (Activision Blizzard) Map: Left 2 Die (in English). 2011.
↑ 2010-10-24, BlizzCon 2010 StarCraft II Art Panel. StarCraft Legacy, accessed on 2011-01-29