Ad blocker interference detected!
Wikia is a free-to-use site that makes money from advertising. We have a modified experience for viewers using ad blockers

Wikia is not accessible if you've made further modifications. Remove the custom ad blocker rule(s) and the page will load as expected.
The infested bunker is a zerg structure.
Game Structure
Edit
The infested bunker works similarly to a terran bunker. Most can only load terran infantry. If viewed in a custom map, the tooltip says "must be destroyed if infested". They appear in the campaigns of Wings of Liberty, Heart of the Swarm, and Nova Covert Ops.
The infested bunker is also found in Left 2 Die. In that mission, at least one infested marine can fit inside one, and it emerges when the infested bunker is destroyed.[1]
Infested bunkers can be built by Alexei Stukov in Co-op Missions. They can walk around, attack, and generated infested marines inside themselves. They can be unloaded.[2]
Development
Edit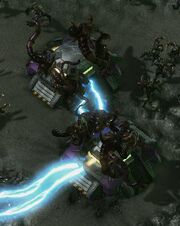 The infested bunker was going to be a produceable campaign unit for Heart of the Swarm, it would have spawned by emerging from underneath a terran bunker, warping the metal into itself, gaining a back-mounted cannon in the process.[3] The unit was put into storage before being revived for Co-op Missions.[4]
References
Edit