You may be looking for:
"Release the interceptors."
- A carrier commander(src)

The interceptor is a type of protoss robotic strike craft. They are the primary weapon of carriers.
"They look like little horseflies. Little buzzing horseflies that kill you."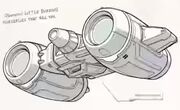 Interceptors are fast, maneuverable, computer-guided strike craft launched by carriers. They may deploy to engage enemy strike craft or ground units.[1] Every interceptor is equipped with a simple AI with highly advanced targeting subroutines. Some of these fighters have independent fire-control circuits, which allow them to continue firing even if the enemy jams the command signal or destroys the interceptor's robotic brain. They are equipped with two small plasma cannons as heavier ordnance would decrease maneuverability.[2] However, the charges of a flight of interceptors can present a threat to capital ships.[3]
Interceptors are constructed in an automated manufacturing plant connected to the carrier's hanger, where diligent Khalai engineers see to their maintenance and launch operations.[2] When deployed the strike craft attack and retreat rapidly to the carrier for repairs and rearmament. The details of the smooth orchestrated deployment of carrier-borne interceptors is a matter of interest to terran scientists.[1] Interceptor deployment was improved with the deployment of the graviton catapult.[2] At least one Tal'darim mothership was equipped with the ability to launch and produce interceptors.[4]
Game Unit
Edit
StarCraft
Edit
Interceptor
Unit
Race
Role

Robotic Strike Fighter

Armament
Properties
Size

Small

Sight range

6

Production

Minerals

25

Build time

18

Produced from

Hotkey

I

Movement

Speed

13.33

Protection

Shields

40

Hit points

40

Armor

0

Combat
Ground attack

6

Air attack

6

Cooldown

1

Attack range

4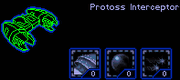 Carriers attack through interceptors. During combat more interceptors must be built to replace casualties. Interceptors have the shields automatically recharged without cost upon returning to the carrier. Forcing interceptors to return at opportune moments may extend the life of the swarm.
Interceptors self-destruct if their parent carrier is destroyed. Interceptors automatically return to the parent carrier if the carrier is disabled (eg. Lockdown), and resume attacking once the carrier is active again. Interceptors are selectable but no orders may be given.
Acquisition
Level 1
Level 2
Level 3
Acquisition
Level 1
Level 2
Level 3
+1 armor bonus to shields per level for all units and structures.

Acquisition

| | |
| --- | --- |
| Purchased from | Forge |
| Hotkey | S |

Level 1

Level 2

Level 3

Increases the number of interceptors carriers can hold at once by 4 (to 8).
StarCraft II
Edit
Interceptor
Unit
Race
Role

Combat drone

Armament
Properties
Sight range

7

Production

Minerals

10

Psi

0

Build time

6

Produced from

Hotkey

I

Movement

Speed

10.5

Acceleration

1000

Lateral
acceleration

0

Deceleration

0

Collision radius

0.25

Protection

Shields

40

Shield
regen/second

2

Hit points

40

Armor

0

Type
Armor type
Plasma Cannons
Damage

5

Attacks

2

Targets

Cooldown

2.14

Range

2

Upgrade/level

+1

Meta
Target
priority

20

Kill score

25

Production
score

25
Interceptors return in StarCraft II as the carrier's armament. Interceptors can be replaced automatically. They're automatically destroyed if the parent carrier is destroyed. By default, constructing interceptors is autocast.
Interceptors make two rapid attacks, one right after the other, each dealing 5 damage.[5] In Legacy of the Void, interceptors can be permenantly launched from a carrier using its "release interceptors" ability. They can be launched to any location, but self-destruct after 60 seconds.[6]
Unlike in StarCraft interceptors are unselectable in-game.
In Nova Covert Ops, interceptors are an armament of the Tal'darim mothership.[4]
Launch interceptors faster. The first four interceptors are launched at a cooldown of .089, the last four at .18.
Increases attack damage of protoss air units.
Acquisition
Level 1
Level 2
Level 3
Increases protoss air unit armor.
Acquisition
Level 1
Level 2
Level 3
+1 armor to shields per level.
Acquisition
| | |
| --- | --- |
| Purchased from | Forge |
| Hotkey | S |
Level 1
Level 2
Level 3
Heart of the Swarm Development
Edit
In Heart of the Swarm the carrier was removed, effectively removing interceptors as well.[7] However, during the Heart of the Swarm beta, the carrier was added back to the game.[8]
References
Edit
Ad blocker interference detected!
Wikia is a free-to-use site that makes money from advertising. We have a modified experience for viewers using ad blockers

Wikia is not accessible if you've made further modifications. Remove the custom ad blocker rule(s) and the page will load as expected.