"
Your Majesty
used to store all her ideas, thoughts and plans within me."
Izsha
Physical
Race
Gender

N/A (female personality)

Eyes

Gray

Political
Affiliation

Zerg Swarm

Occupation

Adviser

Family and
Relatives

Sarah Kerrigan (creator)

Real Life
Voice Actor
Izsha is a zerg advisor in service to Sarah Kerrigan. She is a unique type of zerg, one of a kind.[2]
Izsha exemplifies a midpoint for Kerrigan, standing between Kerrigan's cold rationality and the feral nature of the Swarm. She harkens back to the ideology of the Overmind, but is still a rational individual.[3]
Biography
Edit
In earlier times, Kerrigan used her to store her thoughts and plans.[4] On at least one occasion she entrusted Izsha with a plan to infest a planet using the hyper-evolutionary virus through its water supply.[5]
Izsha reunited with Kerrigan following the latter's de-infestation and subsequent return to the Swarm. She served as an advisor, recalling memories from her time as the Queen of Blades and helping her to reclaim the Swarm[6] while remaining attached to her queen's leviathan.[7]
Game Effect
Edit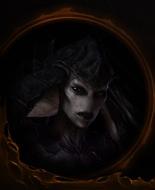 Izsha, in Heart of the Swarm, plays a role similar to Matt Horner from Wings of Liberty, providing the player with the distribution of missions and tactical/intelligence support,[6] along with plot points relevant to Kerrigan's past.[8]
Izsha does not appear on the field of battle in missions as per her attachment to the leviathan.[7]
Izsha's portrait is made available to players after obtaining the achievement "StarTours" in Heart of the Swarm.[9][10]
Quotations
Edit
Inside the story-mode space of the leviathan, Iszha will make a comment every two minutes if the player remains inactive. They progress as follows:
"We will never conquer our enemies by doing nothing."
"There are enemies to be fought, planets to be taken."
"The old Queen of Blades was much more active than you."
"I have heard that the Overmind was a very active leader. You should try it sometime."
"Really? You have a terrifying Swarm, a giant leviathan, and a deadly grudge but you choose to stand around?"
"Think I'll go for a walk" (the comments do not loop back after this line).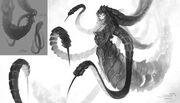 While Abathur was designed to be "evil," the concept of Izsha was to strike a balance between human and monster. Unlike Abathur, Izsha was to have a face that the player could talk and relate to, one that Kerrigan could have more of an emotional connection with.[11]
Izsha's original background had her as an adjutant, from an era where they were cybernetic rather than synthetic.[5] Her organic components allowed her to be infested by the zerg.[12] By BlizzCon 2011, her backstory had been altered, instead portraying her as a former Amanda Haley.[2][13][14] However, her (supposed) former life as Haley is never mentioned in the campaign.
Promotional materials suggested that Izsha might have had ulterior motives for assisting Kerrigan.[15] There was no sign of this in the final product.
A description of Iszha in the map editor offers an alternative view on her character, which may have tied into earlier plans for her to have ulterior motives: "Very organized and intelligent, but also very sly and aware of the political ramifications going on around her. When she means business, she sounds no-nonsense. When she is politicking or engaging in dark humor, she has a slightly more playful air."[16]
References
Edit