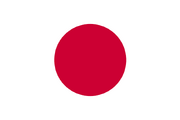 Japan was a nation-state of Earth, located in East Asia.
Following a period of social upheaval in the 22nd century, Earth's nations were united under the auspecies of the United Powers League in 2229, Japan among them. Its native language was banned soon after, English designated as the common tongue of the planet.[1]
Despite the end of Japan's political independence and the removal of some, if not all of its cultural identity, elements of Japanese culture survived, carried on by the terran colonists of the Koprulu Sector. Japanese cusine can still be found in the 26th century, the Kenshi Kafé in Tarsonis City being one such example. A degree of Japanese history is remembered, specifically its role in the Second World War, though Nova at least thought it was German pilots that used kamikaze tactics rather than the Japanese. In addition, elements of Japanese martial arts[2] and swordsplay are in use as combat training and recreation.[3][4] Japanese sayings and culture were taught in institutions such as the Ghost Academy.[5]
References
Edit