You may be looking for:
Joeyray
Physical
Race
Gender

Male

Political
Occupation

Bar owner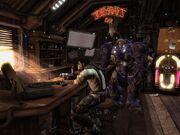 Joeyray was the proprietor of Joeyray's Bar on Mar Sara.[1]
At the onset of the Second Great War, proprietor Jim Raynor shot a TV screen there in his anger at Arcturus Mengsk.[2] Joeyray left a note saying the TV was on Raynor's tab.[3] He also gave Raynor a set of zerg claws as a memento when the rebel left Mar Sara.[1]
References
Edit
Ad blocker interference detected!
Wikia is a free-to-use site that makes money from advertising. We have a modified experience for viewers using ad blockers

Wikia is not accessible if you've made further modifications. Remove the custom ad blocker rule(s) and the page will load as expected.