Kaldir
Talk

2
5,258pages on
this wiki
Kaldir
Astrographical
Sector
Primary World
Physical
Diameter

8,234 km

Climate

Cold, windy

Gravity

0.92 standard

Tileset(s)

Ice

Points of
interest
Species
Dominant
Indigenous
Societal
Affiliation

Protoss Protectorate (formerly)
Nafash Brood (formerly)
Zerg Swarm (formerly)
Kaldir, a moon of the gas giant Midr IV, ranks among the coldest terrestrial locations in the Koprulu sector. Its upper atmosphere repels heat and blocks out most sunlight that might reach the surface. As a result, only two indigenous life-forms of significance have been discovered on Kaldir to date. One, a species of extremophilic bacteria, serves as an energy source for the other: a grouping of vicious ursadons.
Kaldir's gaseous upper atmosphere also produces a planet-wide effect that's made it a colonization nightmare: flash-freezes that occur with barely a moment's warning, and coincide with immense temperature drops which can kill just as quickly. These natural factors, so antithetical to off-planet life, belie a surprisingly attractive location for exploration.[1]
Kaldir is located so far from Shakuras that Khalai cannot use the Khala to communicate with Khalai there and must instead use psi-link spires.[2]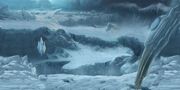 After Kerrigan's defeat at Char, the broodmother Nafash took her brood to the world hoping the cold, harsh climate would enhance her brood's resilience. Her ploy failed, and the protoss forces there killed her. Later, Kerrigan, now back in control of the Swarm, arrived on Kaldir seeking her brood only to find Nafash's body and many feral zerg. She attacked the native ursadons, hoping to gain their resistance to cold, and prevented the protoss from contacting Shakuras with their psi-link spires.[2] She then ordered them all killed before they could flee to Shakuras.[3]
Locations
Edit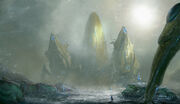 References
Edit