Kaldir
Talk

2
4,998pages on
this wiki
Kaldir is a moon[1] and one of the most inhospitable worlds of the Koprulu Sector, made so by its extreme cold and flash freezes.[2] These storms can temporarily freeze zerg and protoss[3] forcing the latter to raise their shields to deal with these temperatures that are as cold as space. These storms happen so quickly that almost all thermal energy is lost by those exposed to them. However, the native ursadon are unaffected by this phenomena.[4]
Kaldir is located so far from Shakuras that Khalai cannot use the Khala to communicate with Khalai there[3] and must instead use psi-link spires.[4]
After Kerrigan's defeat at Char, the broodmother Nafash took her brood to the world hoping the cold, harsh climate would enhance her brood's resilience.[5] Her ploy failed, and the protoss forces there killed her. Later, Kerrigan, now back in control of the Swarm, arrived on Kaldir seeking her brood only to find Nafash's body and many feral zerg. She attacked the native ursadon, hoping to gain their resistance to cold, and prevented the protoss from contacting Shakuras with their psi-link spires. She then ordered them all killed before they could flee to Shakuras,[4] though a few protoss from the surface were taken as prisoners.[6]
Locations
Edit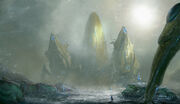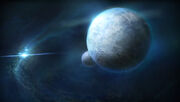 Original sources differed on whether Kaldir is a planet or a moon. However, its Heart of the Swarm beta screen clearly depicts it as a moon.
References
Edit