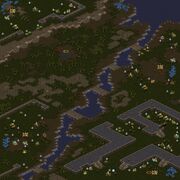 The Khor-shakal ("Great Forum"), otherwise known as the "Heart of the Conclave"[1] was a fortress located on Aiur.[2] Situated south of Velari Province and east from the Temple of the Preservers,[3] it was from here that the Conclave ruled over the protoss.[2]
During the Protoss Civil War, the fortress was destroyed by Tassadar and his Dark Templar allies.[1]
At the start of the End War, Hierarch Artanis and the Daelaam came here to reactivate the Spear of Adun. The area was heavily infested by zerg, but the Daelaam were able to repel them long enough to reach the power cells that could reactivate the Spear of Adun. The ship was activated, and the Daelaam evacuated onto it to flee Aiur.[4]
The forum appears as a contestable territory in RISK: StarCraft.[5]
In Legacy of the Void, the name is parsed without an article as "Khor-shakal, the Heart of the Conclave."
References
Edit