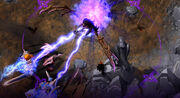 Maelstrom is a psionic power used by Sarah Kerrigan. Once activated, she engulfs herself in psionic energy, damaging all enemies surrounding her with bursts of lightning. A more powerful version of the ability exists named omegastorm.[1]
Game Effect
Edit
Maelstorm appears as one of Kerrigan's level 10 abilities in Heroes of the Storm. It can be upgraded at level 20 to omegastorm.[1]
References
Edit
Ad blocker interference detected!
Wikia is a free-to-use site that makes money from advertising. We have a modified experience for viewers using ad blockers

Wikia is not accessible if you've made further modifications. Remove the custom ad blocker rule(s) and the page will load as expected.