Home
Talk

204
5,306pages on
this wiki
Welcome to the StarCraft Wiki
A
StarCraft
database with 5,306 articles that anybody may edit.
Featured Article
Valor in Hell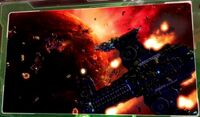 The Battle of Char was fought during the Second Great War, between a joint Terran Dominion and Raynor's Raiders force against the Zerg Swarm. It was instigated by Prince Valerian Mengsk but executed by Commander Jim Raynor. The terrans struck at the primary hive and used a xel'naga device to deinfest Sarah Kerrigan. (more...)
The StarCraft franchise is a series of real-time strategy (RTS) computer games developed by Blizzard Entertainment. It is similar to Blizzard's previous hit franchise, Warcraft, except that it has a space opera setting rather than a high fantasy setting. StarCraft was the best selling video game of 1998, and was so successful that Blizzard estimated in 2004 that 9.5 million copies had been sold since its release (4.5 million copies in South Korea), making it the third best-selling computer game in history. StarCraft is praised for being a benchmark of RTS for its depth, intensity, and balanced races. The main storyline of the series revolves around a war between three galactic species: the protoss (a race of humanoid religious warriors), the zerg (vile insect-like aliens who share a hive mind) and the terrans (initially, descendants of human prisoners from Earth). The sequel, StarCraft II, is a trilogy with each "chapter" focusing on one of the three species.
Community Corner
Heart of the Swarm has recently gone live. The wiki is adding edits as quickly as possible. When adding references, you must follow the referencing guidelines. Unit stats no longer need references. Lore, mission and other references can be found at the citation index.
Wikia recently changed the search system. If you are a registered user and don't like how the search system works now, go to your Preferences, "Under the Hood" and "Advanced Display Options". Select "Enable Go-Search" to fix the issue, then press Save. Unregistered users should register to use the direct search method.
There's a collection of interesting Heart of the Swarm images being added to the wiki. When uploading images, you must follow the image policy, especially when it comes to providing a source for the image. Fan art is not tolerated.
Warning: the wiki contains spoilers for StarCraft II: Wings of Liberty and Heart of the Swarm

All additions must be referenced. Read this before creating new achievements articles.

Please report bad ads. This includes ads promoting software piracy and hacks.
22nd April—BlizzCon 2014 Announced
BlizzCon 2014 has been announced for November 8-9. Tickets are now on sale.
14th April—2014 Season 2 Begins
The newest season of StarCraft II begins.
1st April—That time of year again
Proving its love of the acronym "HotS," Blizzard has changed the name of Legacy of the Void to Heart of the Stars. If you ever wanted to see a time traveling, reality-jumping Artanis, this game is for you! Also, if Heroes of the Storm isn't enough for you, check out Blizzard's new fighting game, Blizzard Outcasts. Arcturus Mengsk. Liddy Raynor. Reapers, banelings, and the battlecruiser Mr Operational. And finally, happy April Fools.
4th March—Patch 2.1.1
Patch 2.1.1, a bug fix, is going live across different regions this week.
3rd January—2014 Season 1 Starts
2014 Season 1 opened.
3rd December—PTR is Back
The Public Test Realm is back and ready for testing patch 2.1.
8th November—BlizzCon 2013
BlizzCon 2013 is on from Friday November 8th to Saturday November 9th.
23rd October—Call to Action: New Maps
Two new maps—Yeonsu and Alterzim Stronghold—have been added to the pool of test maps. New changes to all three races are also being tested.
2nd October—Call to Action
All three races get changes in the newest Call to Action. Test it out and give Blizzard your feedback.
20th September—Back to School Week
From September 23-30, a 100% bonus to all XP gains in StarCraft II multiplayer will be in effect. A brand new Feat of Strength achievement and three exclusive character portraits will also be available.
12th September—BlizzCon 2013 virtual tickets
BlizzCon 2013 virtual tickets (November 8-9, 2013) are on sale now.
30th August—Art Tools beta test
Blizzard is hosting an art tools open beta containing the exact same tools Blizzard used to develop Heart of the Swarm. This package includes plugins for 3ds Max, a large number of StarCraft II source art files, and documentation and tutorials. Visit the link to download the packages.
28th August—Heart of the Swarm Balance Update August 28
A very small patch, focusing on the overseer, went live today.
26th August—2013 Season 5 Begins
2013 Season 5 begins today.
29th July—Heart of the Swarm Patch 2.0.10 goes live
Patch 2.0.10 has gone live. Implementation was delayed in some regions due to an error.
11th July—Heart of the Swarm balance update
Blizzard made a few changes to the hellion and banshee in today's patch.
28th June—Project Blackstone Update
Project Blackstone's newest update focuses on the new Blackstone and the new Dominion.
14th June—Call to Action
Blizzard is testing changes to the warp prism, hellbat and banshee.
10th June—2013 Season 4 Starts
The new season of the StarCraft II ladder starts today.
4th June—2013 Season 3 Locked
2013 Season 3 locked today. Season 4 opens June 10th.
30th May—The Fightin' SceeVees short story goes live
The Fightin' SceeVees, a SCV story, went live today.
30th May—Call to Action
Blizzard is testing warp prism changes on the Derelict Watcher map.
22nd May—Momentum short story goes live
Momentum, a siege tank story, went live today.
16th May—Lost Vikings short story released
The viking short story, Lost Vikings, went live today.
9th May—Carrier has arrived! New short story released
The carrier short story, Carrier, went live today.
7th May—StarCraft II Patch 2.0.8 released
Patch 2.0.8 went live today. It's a large patch, but there's no balance changes.
2nd May—In the Dark short story released
The dark templar short story, In the Dark, went live today.
26th April—Second Batch of BlizzCon Tickets On Sale Saturday
BlizzCon tickets go on sale again, Saturday, April 27th at 10 AM PDT.
25th April—Lens of the Void short story released
The void ray short story, Lens of the Void, went live today.
23rd April—BlizzCon 2013 tickets on sale
On Wednesday April 24th at 7 PM PDT (4 PM EST), BlizzCon 2013 tickets will go on sale. Given their previous history, tickets will run out almost immediately, so get ready.
18th April—Acid Burns short story released
The roach short story, Acid Burns, went live today.
11th April—Great One short story released
The ultralisk short story, Great One, went live today.
4th April—The Education of PFC Shane short story released
The infested terran short story, The Education of PFC Shane, went live today.
2nd April—Patch 2.0.7
Patch 2.0.7 went live today. Fire up StarCraft II and download it.
28th March—Command Performance short story released
The warhound-based short story, Command Performance, went live today.
21st March—New lore for Heart of the Swarm heroes and planets
New information on Izsha, Abathur, Zagara, Nova Terra and there planets now available at Blizzard.
21st March—Just an Overlord short story released
The overlord-based short story, Just an Overlord, went live today.
14th March—Icehouse short story released
The reaper-based short story, Icehouse, went live today.