The Mar Sara Separatists were a terran rebel group based on Mar Sara.[1]
Background
Edit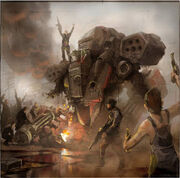 The local population of Mar Sara were anti-Dominion and merely needed resources and leadership to take up arms.[2] On the eve of the Second Great War, Raynor's Raiders destroyed the Terran Dominion planetary logistics headquarters at Backwater Station, throwing planetary Dominion forces into disarray. Citizens joined the attack and seized supplies; now armed and inspired by Raynor's example, they initiated a planet-wide uprising.[3]
Later Activities
Edit
The new rebels set up an outpost near a Dominion dig site; the Dominion was excavating a component to a xel'naga device. The outpost came under attack by the local garrison as Raynor's Raiders moved to steal the component.[1]
Plot branch : Raynor assists the rebels.
Raynor and his Raiders helped the rebels repel the Dominion assault. The rebels then assisted Raynor in destroying the Dominion forces guarding the artifact.[1]
Plot branch ends here
The Second Great War started shortly after the heist. The rebels were caught in the zerg invasion of Mar Sara. Some became surrounded and besieged by the zerg near Backwater Station where the Raiders were preparing to evacuate on Hyperion. Some separatists sent out distress calls for aid against the zerg.[4]
Plot branch : Raynor rescues the rebels.
Raynor and his Raiders rescued as many rebels as they could before evacuating Mar Sara.[4]
Plot branch ends here
The group's decal is available in multiplayer as a reward for winning 500 1v1 games as terran.[5]
References
Edit
↑ 1.0 1.1 1.2 Blizzard Entertainment. StarCraft II: Wings of Liberty. (Activision Blizzard). PC. Mission: Wings of Liberty, The Outlaws (in English). 2010-07-27.
↑ Blizzard Entertainment. StarCraft II: Wings of Liberty. (Activision Blizzard). PC. Cinematic: Public Enemy. (in English). 2010.
↑ Blizzard Entertainment. StarCraft II: Wings of Liberty. (Activision Blizzard). PC. Mission: Wings of Liberty, Liberation Day (in English). 2010-07-27.
↑ 4.0 4.1 Blizzard Entertainment. StarCraft II: Wings of Liberty. (Activision Blizzard). PC. Mission: Wings of Liberty, Zero Hour (in English). 2010-07-27.
↑ Blizzard Entertainment. StarCraft II: Wings of Liberty. (Activision Blizzard) (in English). July 27, 2010