This article concerns StarCraft/StarCraft: Brood War gameplay. You may be looking for:
"Please state the nature of your medical emergency."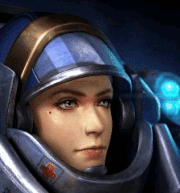 The medic is a terran infantry unit in StarCraft.
In StarCraft: Brood War they were voiced by Glynnis Talken-Campbell.[1]
Medics lack any offensive capability, but instead heal fellow infantry. Marines and firebats may make more liberal use of stimpacks when supported by medics; the increased firepower may be sustained so long as the medics have energy remaining to heal. Medics may also heal protoss and zerg biological units. Protoss players may acquire medics through the dark archon's mind control ability.
Abilities
Edit
Medics use this ability to automatically heal friendly biological units in range.
Usage
| | |
| --- | --- |
| Hotkey | A |
| Cost | 1 (per 2 hit points) |
| Range | 2 |
Medics remove parasite, ensnare, plague, devourer's corrosive acid (removes all multipliers of acid in one cast), maelstrom, lockdown, optical flare, and irradiate, from a targeted unit; a single cast removes any combination and number of negative buffs from the above list from the target unit.
Restoration can be cast on any friendly or allied unit.
Usage
| | |
| --- | --- |
| Hotkey | R |
| Cost | 50 |
| Range | 6 |
Usage
| | |
| --- | --- |
| Hotkey | F |
| Cost | 75 |
| Range | 9 |
Increases the medic's energy by 50.
Increases medic starting energy from 50 to 62.5.

Acquisition

Level 1

Level 2

Level 3
Quotations
Edit
References
Edit