"It's some kind of energy sword prototype...Looks useful."
"You should let me examine it."
"Of course. After some field testing..."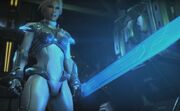 The monomolecular blade is a prototype terran energy sword. It utilizes its wielder's psionic energy to hone an edge that has been sharpened to a microscopic degree, allegedly only one molecule thick at the edge, allowing it to cut through both physical armor and energy shields. A monomolecular blade was discovered in a Defenders of Man facility on Tarsonis by Agent Nova Terra. Nova then used the device to aid her in maneuvering through the facility undetected.[1]
Game Effect
Edit
The monomolecular blade is a choice for Nova's weapon slot in Nova Covert Ops after completing "Enemy Intelligence".[1]
Melee weapon. Ignores enemy armor and shields. Can use Dash Attack to dash forward a short distance and deal 50 damage to enemy units in Nova's path. Can attack ground units.
Innate Ability: Dash Attack:
Dashes forward and deals 50 damage to enemy ground units in a straight line. Does not damage friendly units.
Usage
| | |
| --- | --- |
| Hotkey | Q |
| Cost | 50 |
Monomolecular blade
Strength

100

Range

Melee

Cooldown

1.5
References
Edit
Ad blocker interference detected!
Wikia is a free-to-use site that makes money from advertising. We have a modified experience for viewers using ad blockers

Wikia is not accessible if you've made further modifications. Remove the custom ad blocker rule(s) and the page will load as expected.