Morik is an infested terran. He is skilled in the use of explosives, ones that don't involve his own detonation.
Biography
Edit
Morik was infested in an experiment conducted by Terran Confederacy scientists after the Brood War, in a secret military installation. Nanites run through his bloodstream, preventing his most awful zerg instincts from manifesting themselves. However, he has been described as "a little batty" for his desire to "KILL! KILL! KILL!"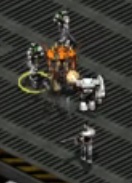 He was rescued by the Kimeran Pirates when they raided a Confederate science facility. Morik went on a rampage through the facility, freeing protoss and zerg test subjects, killing guards, and causing the facility's core to overheat. The pirates were retrieved by the Kimera, and one of them spoke up for Morik, telling Buzan that he seemed to be okay. Buzan was dubious, but nonetheless extracted Morik along with his operatives.[1]
Game Unit
Edit
Abilities
Edit
References
Edit
↑ 2000-10-27. StarCraft: Brood War. Vivendi Games. Mission: Deception (in English). Map Archives: Deception.