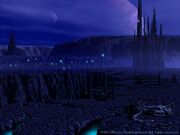 New Antioch, Shakuras,[1] was the main protoss settlement on that world after the fall of Aiur. It became the site of the Executor's Citadel. The protoss held war councils with Raszagal there.[1][2]
New Antioch
Players

4

Tileset

Wasteland (Shakuras)

Size

192x200

Critters
Extra Features
New Antioch appears as a twilight wasteland map in StarCraft II. Destructible rocks block a rear-door passage into the starting bases, and there are other passages blocked only by LoS blockers.[3]
References
Edit