"
Dominion
's compound, interesting. Scientists desired to pacify the
Swarm,
inadvertently created potent toxin. Deadly to any non-zerg entity. Noxious strain bonded permanently to toxins. Emits as poisonous vapor. Capable of channeling toxins and releasing in controlled blasts through vents in carapace."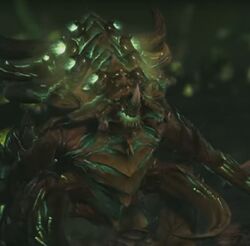 The noxious is a variant strain of the ultralisk.
"Toxic compound released, great potential. Bonding to ultralisk sequences. Noxious strain: releases poisonous explosion. Damages enemies in target area."
A toxic compound is bonded within the genetic sequence of the noxious. This toxin is deadly to any non-zerg entity, and can be emitted as a poisonous vapor. The noxious is also capable of channeling this toxin and releasing it as a controlled blast through vents in its carapace.[1][2]
Plot branch : Kerrigan attacks Metis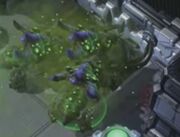 During the Battle of Korhal, Abathur created the noxious strain in the Dominion's Metis xeno research facility. When Kerrigan telepathically took control of several captive ultralisks and freed them, a pair of canisters containing toxic gas broke open. The toxins, being non-lethal to the zerg, bonded with the ultralisks. Abathur used the toxins to create the noxious strain.[1]
Plot branch ends here
In 2506, the noxious was/remained in use by Kerrigan's Swarm.[3]
Game Unit
Edit
Noxious
Unit
Race
Affiliation

Kerrigan's Swarm

Campaign
Base unit
Role

Heavy assault beast

Armament

Kaiser blades

Properties
Transport
size

8

Sight range

9

Production

Minerals

300

Gas

200

Control

6

Build time

55

Evolves from
Requires

Hotkey

U

Movement

Speed

2.9531

Acceleration

1000

Lateral
acceleration

46.0625

Deceleration

0

Creep


multiplier

x1.3

Collision radius

1

Protection
Hit points

500

Hit point
regen/second

0.2734

Armor

1 (+2 with Chitinous Plating)

Type
Armor type
Kaiser Blades
Damage

25

Targets

Cooldown

1

Range

1 (melee)

Upgrade/level

+2
The noxious strain exchanges the reincarnation ability and staying power of the torrasque strain, for increased offensive potential. Its Noxious and Toxic Cloud abilities enhance its splash damage potential dramatically, allowing it to kill large numbers of enemy units faster than ever. Combined with the Monarch Blades mutation and it becomes an absolutely monstrous damage dealer to large squads of enemy units.
Abilities
Edit
Release a burst of toxins around the noxious ultralisk to deal 20 damage to nearby enemies. Does no damage to structures. Can be set to autocast.
Usage
| | |
| --- | --- |
| Hotkey | W |
| Range | 1.5 |
| Cooldown | 10 |
Development
Edit
In earlier versions of the game, "noxious" was a separate upgrade for the ultralisk, explained to be a result of mutating an acidic compound in the ultralisk's lungs that is exhaled when it breathes, damaging enemies around it.[4]
References
Edit