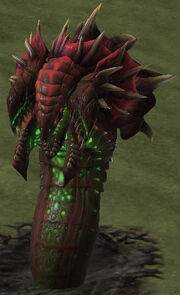 The nydus destroyer is a zerg variant strain of the nydus worm that appears in Heart of the Swarm beta files. It could be summoned from a greater nydus network. It has an acid attack which it fires at structures only. It cannot load units.[1]
The nydus destroyer's model bears a great similarity to the ash worm; it is possible one of the two models was adapted into the other.
References
Edit
Ad blocker interference detected!
Wikia is a free-to-use site that makes money from advertising. We have a modified experience for viewers using ad blockers

Wikia is not accessible if you've made further modifications. Remove the custom ad blocker rule(s) and the page will load as expected.