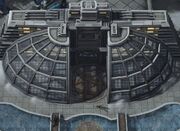 Ocean's Paradise Hotel is a large hotel in Elsecaro on Tyrador IX. It is located next to the Surfside Stadium, and has the largest infinity pool on Tyrador IX, though the nearby Imperial Resort and Suites was rumored to begin construction soon.
During the Defenders of Man Insurgency, the hotel was struck by feral zerg, killing a number of tourists staying there. The Defenders of Man established a defensive line near the hotel.
References
Edit
Blizzard Entertainment. StarCraft II. (Activision Blizzard). PC. Mission: Nova Covert Ops, Trouble in Paradise (in English).
Ad blocker interference detected!
Wikia is a free-to-use site that makes money from advertising. We have a modified experience for viewers using ad blockers

Wikia is not accessible if you've made further modifications. Remove the custom ad blocker rule(s) and the page will load as expected.