"Dimensional strings attuned."
Oracle
Physical
Race
Armaments

Pulsar beam

Political
Role

Psionic warship

Personnel
Crew

1 (pilot)
The Oracle is an aerial protoss support vessel.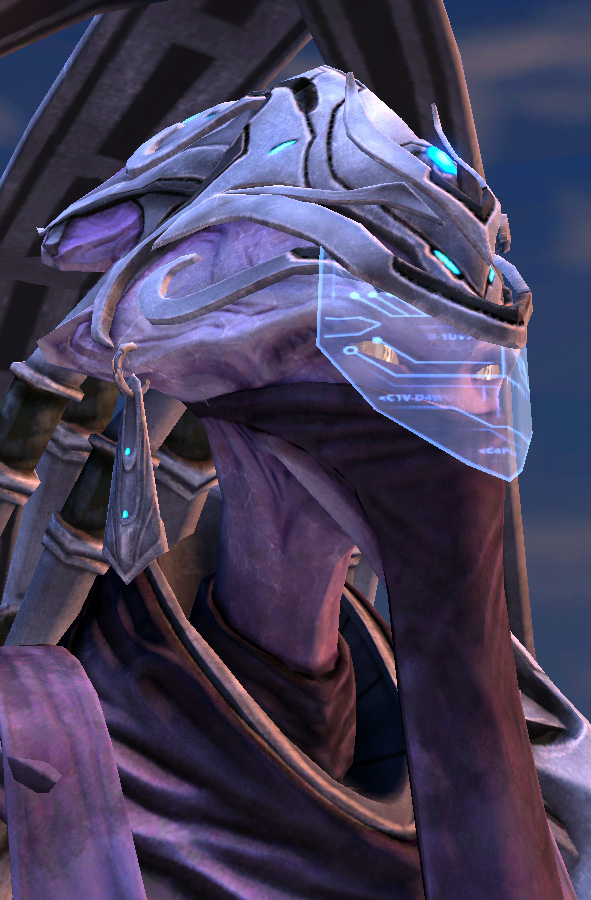 A psionic warship, the Oracle was developed by the protoss after the first phase of the Second Great War, in order to maximize the effectiveness of their war machine against their enemies.[1] They are agile support vessels, and feature some of the most advanced protoss technologies in existence.[2]
Oracle pilots hail from an order of young Nerazim dedicated to understanding and controlling time. Their abilities allow them to calculate how and when to use their ships to most effectively win a battle. The order believes it can change the fate of the protoss race.[2] Among their abilities is temporal sight, a form of time manipulation that gives the pilots the means to detect hidden foes, without the need for specialized detection systems.[3]
"A true monster against unarmored units, the Oracle's Pulsar Beam will simply disintegrate any unit unfortunate enough to stand beneath its shadow."
Oracles bear the aesthetics of the Nerazim, with their silver-color and blue hulls, and their green glows.[4] Their core generates a warp field of immense power to contain large amounts of chaotic energy, which is then funneled into an intricate network of miniature crystals and psionically receptive mono-filaments. The stream of raw energy splits and stabilizes as it ebbs through the network, supplying power to the Oracle's systems. Activation of the ship's weapon system creates an opening in the warp field. Raw energy flows through sets of simple focusing crystals, which shape each chaotic discharge into a coherent bolt. Shots from the Pulsar cannon simmer with violent power, and are designed to cause heavy damage to ground targets.
The Oracle does not have a central computer to deal with the minutiae of navigation and targeting. Instead, it is equipped with a multi-node hub that links the pilot directly to the ship. The pilots rely exclusively on their temporal mastery to direct the deadly salvos of the vessel's pulsar beam.[3]
Game Unit
Edit
Oracle
Unit
Race
Role

Flying caster

Armament

Pulsar beam

Properties
Maximum energy

200 (init. 50)

Size

0.75

Sight range

10

Production

Minerals

150

Gas

150

Psi

3

Build time

50

Produced from

Hotkey

E

Movement

Speed

4

Acceleration

3

Lateral
acceleration

0

Deceleration

0

Protection

Shields

60

Hit points

100

Armor

0

Type
Armor type
Pulsar Beam


Requires activation

Damage

15 (+10 vs light)

Targets

Cooldown

0.86

Range

4

Meta
Target
priority

20

Kill score

300

Production
score

300
The oracle is meant for scouting and economic disruption.[5] It allows protoss players to be more aggressive in their raiding tactics than in previous games.[6]
The oracle's revelation ability gives it some overlap with the observer, given how both unit/ability function as a form of detection. While the observer excels in general observation, revelation is a useful counter in specific circumstances, such as dealing with lurkers and speed-upgraded Banshees.[7]
Abilities
Edit
Envision
Usage
| | |
| --- | --- |
| Hotkey | T |
| Cost | 50 |
| Duration | 60 |
| Cooldown | 60 |

Revelation
Enemy units and structures in an area grant vision to the player for 60 seconds. This has no effect on cloaked or burrowed units until they uncloak or unburrow.
The ability is smartcast.
In Legacy of the Void this ability will include the Envision ability, making the oracle a temporary detector.[8]
Usage
| | |
| --- | --- |
| Cost | 75 |
| Range | 12[9] |
| Duration | 60 |
| Cooldown | 2.5 |

Pulsar Beam
Enables the casting oracle's pulsar beam weapon.
The ability is not smartcast.
Usage
Hotkey
Activate pulsar beam: C
Deatviate pulsar beam: D
Cost
25 (+1.4 per second)
Cooldown
4
Legacy of the Void
Edit
Stasis Ward
This ability places a cloaked stasis ward on the ground which, upon detonation, will explode and trap nearby enemy units in stasis for 30 seconds. Frozen units cannot move or attack, nor can they be attacked. This ability cannot be manually activated.[10]
Development
Edit
Quotations
Edit

The oracle's voice corresponds to a female protoss.
A variant oracle portrait can be unlocked through Heart of the Swarm's leveling system.[11]
References
Edit
↑ 2011-10-27, BlizzCon 2011: StarCraft II: Heart of the Swarm – Units and Abilities. Blizzplanet, accessed on 2011-11-06
↑ 3.0 3.1 2015-02-05, Oracle Science. Blizzard Entertainment, accessed on 2015-02-08
↑ Cite error: Invalid <ref> tag; no text was provided for refs named Art_Panel_Vid
↑ 2012-06-11, Dustin Browder gives Slasher the scoop on Heart of the Swarm. YouTube, accessed on 2012-06-21
↑ 2015-08-28, Community Feedback Update - August 28. Blizzard Entertainment, accessed on 2015-09-11
↑ 8.0 8.1 Blizzard Entertainment. 2014-11-07. Legacy of the Void - Multiplayer Update: Protoss. Youtube. Accessed 2014-11-09.
↑ 2015-09-03, Legacy of the Void Beta Balance Update -- September 3, 2015. Blizzard Entertainment, accessed on 2015-09-06
↑ 2015-05-14, Legacy of the Void Beta Balance Update -- May 14, 2015. Blizzard Entertainment, accessed on 2015-05-20
↑ 25-10-2012, Heart of the Swarm Preview: Leveling. Blizzard Entertainment, accessed on 2012-11-01