Orlan's Mercenaries are a mercenary organization led by Colonel Orlan, based at Deadman's Port, Dead Man's Rock.[1]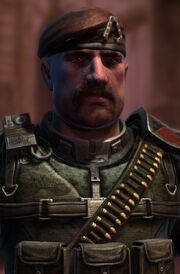 During the Second Great War, the Raiders acquired an old Confederate adjutant and hired Orlan to decrypt it. Orlan decided to betray the Raiders and sell it to the Dominion. He tentatively hired Mira's Mercs to prevent the rebels from interfering. However, the mercenaries were unable to achieve the required quota of 6000 minerals before Raynor's Raiders, and nearly the entire force was wiped out until Orlan surrendered, and was forced to hand over the adjutant. Orlan was stored "on ice".[1]
References
Edit
↑ 1.0 1.1 Blizzard Entertainment. StarCraft II: Wings of Liberty. (Activision Blizzard). PC. Mission: Wings of Liberty, Cutthroat (in English). 2010-07-27.
Ad blocker interference detected!
Wikia is a free-to-use site that makes money from advertising. We have a modified experience for viewers using ad blockers

Wikia is not accessible if you've made further modifications. Remove the custom ad blocker rule(s) and the page will load as expected.