Overseer
Talk

0
5,408pages on
this wiki
You may be looking for: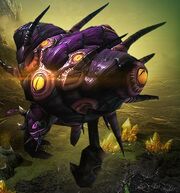 The overseer is a zerg unit evolved from the overlord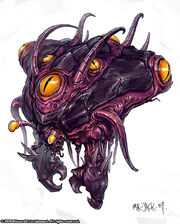 Overseers are genetically-altered overlords that have a mass of additional sockets filled with highly evolved optical receptors with hypersensitive retinas. These "eyes" have been through many iterations, each developmental cycle improving upon the preceding one's optical evolution. The zerg are obsessed with detecting subtler motions and more advanced camouflage techniques, and this latest evolution allows the overseer to detect any hidden enemy units, including those that are burrowed underground or cloaked. Overseers can also carry or give birth to changelings.[1]
Unlike most other zerg breeds but like overlords, overseers have the ability to act with appropriate judgment, but are severely limited in their mental flexibility.[2]
Game Unit
Edit
Overseer
Unit
Race
Role

Advanced aerial observer

Properties
Maximum energy

200 (init. 50)

Energy
regen/second

0.5625

Sight range

11

Detection range

11

Production

Minerals

50

Gas

50

Control

Provides 8

Build time

17

Evolves from
Requires

Hotkey

V

Movement

Speed

1.875 (3.375 with Pneumatized Carapace)

Acceleration

2.125

Lateral
acceleration

46.0625

Deceleration

0

Collision radius

1

Protection
Hit points

200

Hit point
regen/second

0.2734

Armor

0

Type
Armor type
Meta
Target
priority

20

Kill score

400

Production
score

200
The overseer loses the ability to excrete creep or transport units, but gains the ability to create changelings. It continues to provide control and has faster movement.
Abilities
Edit

Contaminate
Usage
Energy

125

Duration

30

Hotkey

E
Notes
The overseer disables a building, which becomes covered in slime. It cannot produce units, larva or research upgrades while contaminated.
Edit
Spawn

Changeling
Usage
Energy

50

Range

HotS only: siege range[3]

Activation/
Build Time

Almost immediate

Hotkey

C
Notes
The overseer can create a changeling, which can spy on enemy forces.
Edit
Flyer Carapace

Evolved at
Properties

| | | | |
| --- | --- | --- | --- |
| Level | Level 1 | Level 2 | Level 3 |
| Minerals | 150 | 225 | 300 |
| Gas | 150 | 225 | 300 |
| Evolution time | 160 | 190 | 220 |
| Required | | | |

Notes

+1 bonus to armor per level for zerg air units.

Edit
Pneumatized Carapace
Evolved at
Hotkey

P

Properties
Notes

Increase speed of the overlord from 0.586 to 1.88 and the overseer 1.88 to 3.375.

Edit
Heart of the Swarm Campaign
Edit
Sarah Kerrigan's forces never create overseers. Detection was never required in the campaign.
Development
Edit
Special Overseer Strains
Edit
The overseer was developed as the universal overlord detection in StarCraft I made the zerg "detectorific". As such, the overlord/overseer split makes cloaking more useful to a zerg's opponent.[4]
References
Edit