The planetary fortress is an upgrade to the terran command center.
The number of command centers deployed in combat zones drove the development of standard schematics to upgrade them into a dedicated military role. One variant was the planetary fortress.[1] The Ares planetary fortress entered service following the Brood War and featured twin Ibiks cannon and heavier armor.[2]
Structures similar to orbital commands and planetary fortresses were in use by the Kel-Morian Combine by 2502.[3]
Game Structure
Edit
Planetary Fortress
Structure
Race
Role

Foundation building/Anti-ground defensive structure

Armament

Ibiks cannon

Properties
Transport
capacity

5 SCVs (10 with Neosteel Frame)

Sight range

11

Production

Minerals

150

Gas

150

Supply

Provides 11

Campaign Cost

10 zerg points

Build time

50

Upgrades from
Requires

Hotkey

P

Movement
Collision radius

2.5

Protection
Hit points

1500

Armor

3 (+2 with Building Armor)

Type
Armor type
Ibiks cannon
Damage

40

Targets

Cooldown

Normal (2)

Range

6 (7 with Hi-Sec Auto Tracking)

Function
Produces
Meta
Target
priority

20

Kill score

1500

Production
score

500
Planetary fortresses are useful for defending exposed expansions. The Hi-Sec Auto Tracking upgrade allows an optimally placed fortress to hit targets beyond the mineral line.
The planetary fortress' splash damage does not affect friendly units. The fortress may not lift off, or be converted to a command center or orbital command.
A variant, called the mercenary fortress, can be found in the Galaxy Map Editor.[4]
Production
Edit
Transform

Command Center

to

Planetary Fortress

Usage
Minerals

150

Gas

150

Units
Activation/
Build Time

50

Hotkey

P

Notes

The command center can transform into an planetary fortress. The transformation is irreversible.

Edit
Abilities
Edit
Load

SCVs
Notes
The command center or planetary fortress may load and unload five SCV's. This may be done while a command center is in flight. The number of SCV's is increased to ten with Neosteel Frames.
Edit
Neosteel Frame

Campaign
Cost

$50,000

Researched at
Hotkey

N

Properties
Notes

Increases bunker capacity by 2. The bunker model is changed.
Increases command center and planetary fortress SCV capacity by 5.

Edit
Wings of Liberty
Edit
In the StarCraft II: Wings of Liberty single-player campaign, access to planetary fortresses is unlocked via 10 zerg research points and at the cost of Perdition turrets.[5] Planetary fortresses must still be upgraded from existing command centers, unlike their orbital command counterparts.
Planetary Fortress

Campaign
Cost

10 zerg research points

Researched at
Notes

Enables the command center to transform into a planetary fortress. This cannot be unlocked if the Perdition turret has been unlocked.[5]

Edit
Development
Edit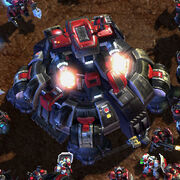 The planetary fortress used to be an independent structure enabled by the factory. In regards to command center variants, most work went into the fortress, with the results effectively being ported to the orbital command, which was designed later. It used to have lift off properties, but it was ultimately decided to keep it as a grounded structure.[7]
References
Edit