Primal zerglings are primal zerg lifeforms similar to zerglings.
Game Unit
Edit
Heart of the Swarm
Edit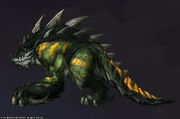 Primal zerglings appear in the Heart of the Swarm campaign. Compared with their Swarm counterparts (without the Hardened Carapace mutation), primal zerglings have greater health and are more reptilian in appearance. Also, unlike their Swarm counterparts, primal zerglings cannot morph into banelings.
The primal zerglings first appear during the first engagement on Zerus, where several primal zerglings are guarding a primal zerg essence pool near Kerrigan's hive cluster on the orders of the primal pack leader Brakk.[1]
Later, Brakk starts sending out raiding packs to kill the quillgor packs and destroy their meat so that Kerrigan cannot feed the meat to the Ancient One, Zurvan, and, therefore, cannot awaken him.[1]
The primal zerglings are later aligned to one of the two packs, the remnants of Brakk's pack or to Yagdra's pack, during the second engagement on Zerus.[2]
The primal zerglings are a hostile force in the third and final engagement on Zerus, aligned to Yagdra, Kraith, Slivan, or Zurvan's pack.[3]
They also appear as part of Dehaka's pack on Korhal.[4]
Once Kerrigan gains sufficient power, she can call down sacs containing a group of primal zerg consisting of primal zerglings, primal hydralisks, and primal roaches.[5]
Co-op Missions
Edit
Primal zerglings can be built by Dehaka in Co-op Missions. They can evolve into ravasaurs.[6]
Upgrades
Edit
Increases the attack damage of all primal zerg units.
Acquisition
Level 1
Level 2
Level 3
Increases the armor of all primal zerg units.
Acquisition
Level 1
Level 2
Level 3
The primal zergling uses the same base model as the primal ultralisk, tyrannozor, ravasaur, and Brakk.
References
Edit