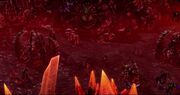 A/the primary hive cluster has been utilized by the zerg many times.
The hive cluster was on Char during the Great War.[1] At the end of the Brood War, it was moved to Char Aleph.[2]
During the Second Great War, the primary hive cluster was again on Char. In the Battle of Char, the combined Dominion/Raiders forces were able to create a diversion[3][4] that allowed them to progress on the hive cluster and use a xel'naga device to de-infest the Queen of Blades.[5]
The hive cluster appears as a contestable territory in RISK: StarCraft.[6]
References
Edit
Ad blocker interference detected!
Wikia is a free-to-use site that makes money from advertising. We have a modified experience for viewers using ad blockers

Wikia is not accessible if you've made further modifications. Remove the custom ad blocker rule(s) and the page will load as expected.