You may be looking for:
The probe is the basic protoss construction unit.
Probes are robotic drones and stand at at the forefront of protoss colonization and military efforts.[1] They were originally designed by the Khalai Caste to lay the foundation for protoss colonies on hostile worlds where living workers would be at too great a risk.[2] Probes are functional, light, and easy to produce. Their outer shell does not offer much in the way of protection (even factoring in their plasma shield) but it allows probes to operate virtually anywhere without sacrificing speed or mobility. The frame can also absorb light and turn it into energy, forgoing the need for a power supply.[1]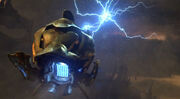 The probe truly shines in its service to protoss military might, providing service to the nexus of any protoss base. They are also used to warp in structures, manufacturing and planting micro-beacons, allowing fully functional buildings to be warped in over interstellar distances.[3] This process enables the protoss to quickly settle on new worlds, or establish nexus points to strike at their enemies, while only using a handful of probes.
As multipurpose platforms designed to operate in hazardous environments (likely teeming with dangerous creatures), probes are equipped with a miniature energy projector,[1] which shoots out a particle beam.[3] Commonly used to collect samples and mineral crystals, the beam can be boosted to cause kinetic damage to targets deemed a threat.[1] Probes are also often used as rudimentary spies, sent ahead to survey the potential locations of enemy encampments.[4]

The following article or section contains lore from the StarCraft RPG, which is not regarded as canon. Elements may be regarded as 'flavor lore' however.
Probes are controlled by an artificial intelligence. Even after the Brood War, it is not uncommon to see hundreds of probes lining the streets of a protoss settlement, performing one task or another.
Probes are able to construct facilities from scratch. If the situation calls for it, probes may be used as a last line of defense. [5]
Game Unit
Edit
StarCraft
Edit
Probe
Unit
Race
Role

Robotic worker

Armament

Particle beam

Properties
Size

Small

Sight range

8

Production

Minerals

50

Psi

1

Build time

20

Produced from

Hotkey

P

Movement

Speed

5

Protection

Shields

20

Hit points

20

Armor

0

Combat
Ground attack

5

Cooldown

22

Attack range

1
Probes construct buildings by starting the building's warp-in process. After that point the building "constructs" by itself and the probe is free to leave and pursue other activities. This is unlike the SCV and drone which are fully occupied when constructing buildings. Like other workers, probes float and do not trigger spider mines.
Some protoss early game rush strategies feature probes constructing pylons and photon cannons near or in an enemy base, known as cannon rushing. Probes may also warp in assimilators to frustrate an enemy's vespene gathering efforts.
Probes are more fragile than SCVs. However, they have faster acceleration than drones and greater attack range than SCVs, giving protoss players an edge in worker harassment, particularly versus terran SCVs, which have the shortest attack range of the three. Probes also have a sight range of 8, while the drone and SCV have a sight range of 7, allowing the probe to scout easier than its counterparts and see them without being seen itself.
Abilities
Edit
StarCraft: Ghost
Edit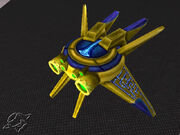 The probe seemingly appears in StarCraft: Ghost, although its function(s) are unknown.
StarCraft II
Edit
Probe
Unit
Race
Role

Basic worker unit

Armament

Particle beam

Properties
Transport
size

1

Sight range

8

Production

Minerals

50

Psi

1

Build time

17

Produced from

Hotkey

E

Movement

Speed

2.8125

Acceleration

2.5

Lateral
acceleration

46

Deceleration

0

Collision radius

0.375

Protection

Shields

20

Shield
regen/second

2

Hit points

20

Armor

0

Type
Armor type
Particle beam
Damage

5

Targets

Cooldown

1.5

Range

0.1 (melee)

Meta
Target
priority

20

Kill score

100

Production
score

50
The probe retains its role as the protoss worker unit in StarCraft II with no noticeable changes in function. However, as protoss shields regenerate faster than they did before, probes are more versatile scouts than they were in the original games.
Abilities
Edit
Development
Edit
The following section contains information from a previous version of StarCraft II which is no longer valid.
As of February 2010, the obelisk lost Argus Link and Proton Charge.[12]
Known Probes
Edit
A probe pet will be available in Diablo III, for those who pre-order the collector's edition of Legacy of the Void.[13]
References
Edit
↑ 1.0 1.1 1.2 1.3 2014-10-30, Probe Science. Blizzard Entertainment, accessed on 2014-01-11
↑ 3.0 3.1 Underwood, Peter, Bill Roper, Chris Metzen and Jeffrey Vaughn. StarCraft (Manual). Irvine, Calif.: Blizzard Entertainment, 1998.
↑ Probe, Blizzard Entertainment. Accessed on 2010-12-21
↑ Bill Slavicsek, David Eckelberry, Shawn F. Carnes (March 1, 2000). Alternity: StarCraft Edition. Wizards of the Coast. ISBN 978-0786-91618-4
↑ 6.0 6.1 Cydra. 2009-02-18. StarCraft II Q&A - Batch 49 (page 6). Battle.net StarCraft II General Discussion Forum. Accessed 2009-02-18. Archive
↑ Cavez, Vojnik. 2009-02-19. Proton Charge Question. Battle.net StarCraft II General Discussion Forum. Accessed 2009-02-19.
↑ Karune. 2009-02-18. StarCraft II Q&A - Batch 49. Battle.net StarCraft II General Discussion Forum. Accessed 2009-02-18.
↑ Karune. 2009-02-18. StarCraft II Q&A - Batch 49 (page 2). Battle.net StarCraft II General Discussion Forum. Accessed 2009-02-18.
↑ Karune, N00bonicplague. 2009-09-28. Karune— Can Proton Charge be cast on minimap?. Battle.net StarCraft II General Discussion Forum. Accessed 2009-09-28.
↑ 11.0 11.1 11.2 Cydra. 2009-02-18. StarCraft II Q&A - Batch 49 (page 5). Battle.net StarCraft II General Discussion Forum. Accessed 2009-02-18. Archive
↑ Photon Charge was removed in the previous build and so was Argus Link.

This means that both of them are out in the current build. Kapeselus. 2010-02-02. Mining Question (post 7). Battle.net StarCraft II Gameplay Discussion Forum. Accessed 2010-02-02.
↑ Starcraft II: Legacy of the Void - Collector's Edition, Amazon.com. Accessed on 2015-03-13