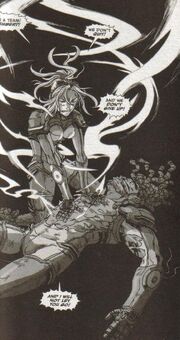 Psychic healing is the process of using psionic powers to heal wounds and/or regain one's bearings after being stunned.
This ability is possessed ghost Kare Vaessen, after the removal of her psychic dampeners.[1]
Nova Terra seemed to use this ability to heal Gabriel Tosh during a training mission, after he was caught in her massive psi-blast.[2]
References
Edit
Ad blocker interference detected!
Wikia is a free-to-use site that makes money from advertising. We have a modified experience for viewers using ad blockers

Wikia is not accessible if you've made further modifications. Remove the custom ad blocker rule(s) and the page will load as expected.