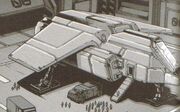 Puddle-jumpers are twin-engined,[1] small terran thirty-seater civilian transports that ferry passengers from the surface of a planet to subsequent transport in space. Padded seats are provided to protect the passengers from the intense G-forces of escape velocity[2]—said passengers board up an extendable side-ramp, though puddle-jumpers also possess rear hatches.[1]
They possess VTOL abilities.[1]
Puddle jumper" is a colloquial term for a light passenger plane incapable of flying long distances without refueling.
References
Edit
Ad blocker interference detected!
Wikia is a free-to-use site that makes money from advertising. We have a modified experience for viewers using ad blockers

Wikia is not accessible if you've made further modifications. Remove the custom ad blocker rule(s) and the page will load as expected.