This following section contains information from concept art that may not be canonical.
The pulse rifle is the hypothetical name to a laser rifle seemingly possessed by terrans. It bears great similarity to the C-14 rifle in structure, indicating artistic license. However, it is worth noting that terran laser technology has been scaled down to weapons such as the pulse pistol[1] and is possessed by starships such as the wraith and battlecruiser.[2]

The following section contains information from the Warcraft series and is not canon.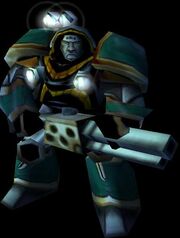 In Warcraft III, marines are armed with pulse rifles. They appear to be projectile weapons.
References
Edit
↑ Mesta, Gabriel (July 1, 2001). StarCraft: Shadow of the Xel'Naga. Simon & Schuster (Pocket Star). ISBN 0-671-04149-5.
↑ Underwood, Peter, Bill Roper, Chris Metzen and Jeffrey Vaughn. StarCraft (Manual). Irvine, Calif.: Blizzard Entertainment, 1998.
Ad blocker interference detected!
Wikia is a free-to-use site that makes money from advertising. We have a modified experience for viewers using ad blockers

Wikia is not accessible if you've made further modifications. Remove the custom ad blocker rule(s) and the page will load as expected.