Purifier (mothership)
Talk

6
5,374pages on
this wiki
You may be looking for:
"Man, did ya see the size of that protoss ship? Don't matter how often I see 'em, those guys always come out with something that makes your jaw drop."
Purifier
Unit
Race
Affiliation

Protoss Protectorate

Campaign
Base unit
Armament

Rift Burst

Properties
Maximum energy

200

Protection
Hit points

6000

Rift burst
Damage

12

Attacks

6

Targets

Cooldown

2.21

Range

7
The Purifier is a protoss capital ship capable of laying waste to entire planets.[1] This mothership is protected by plasma shield technology impenetrable to terran attacks, but these are maintained by several nexus; destroying them drops its shields.[2]
Plot option :
Raynor's Raiders choose to protect Haven (A canon)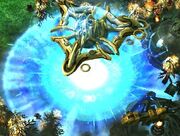 A purifier was used by Executor Selendis to attack the terran colony on Haven during the Second Great War; the protoss detected zerg infestation spores amongst the colonists and moved to liquidate them. Jim Raynor refused to condemn the colonists who had not yet manifested symptoms of infestation. The ship was destroyed by Raynor's Raiders and the colony was saved.[2]
Plot option ends here
Game Unit
Edit
The StarCraft II mothership had the "Planet Cracker" ability during development.[3] The ability is used by the Purifier.[2] It is technically possible to avoid confrontation by playing "Haven's Fall" instead of "Safe Haven"[4] (or by bypassing Haven altogether).
The Purifier projects an aura similar to a pylon or warp prism, enabling units to be warped-in.[5] The Purifier can summon air units.[2]
If Safe Haven is played on Brutal the Purifier can detect cloaked and burrowed units.
References
Edit