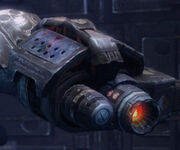 The Quad K12 "Punisher" grenade launcher is the primary weapon of the marauder. The marauder mounts a pair of K12s on each arm,[1] each of which hundreds of grenades. The K-12 was originally designed to crack hardened-zerg carapaces, but its payload are able to decimate structures and armor as well.[2]
A fully automated weapon system, the K12 can deliver armor-piercing Punisher grenades or concussive shells to large or small ground targets. The weapon's autoloader assembly also boasts a miniature manufacturing plant that replenishes the suit's ammunition stores while in the field, allowing the marauder to fight through drawn out engagements without the need to resupply. Energy for the manufacturing process is supplied by an auxiliary power generator mounted on the back of the marauder's 5-4 Armored Infantry Suit.[3]
References
Edit
Ad blocker interference detected!
Wikia is a free-to-use site that makes money from advertising. We have a modified experience for viewers using ad blockers

Wikia is not accessible if you've made further modifications. Remove the custom ad blocker rule(s) and the page will load as expected.