This article concerns StarCraft II gameplay. You may be looking for:
Queen
Unit
Race
Role

Hive warden

Armament
Properties
Maximum energy

200 (init. 25)

Energy
regen/second

0.5625

Transport
size

2

Sight range

9

Production

Minerals

150

Control

2

Build time

50

Produced from
Requires

Hotkey

Q

Movement

Speed

0.9375

Acceleration

1000

Lateral
acceleration

46

Deceleration

0

Creep


multiplier

x2.7

Collision radius

0.875

Protection
Hit points

175

Hit point
regen/second

0.2734

Armor

1

Type

Biological
Ground
Psionic

Armor type

None

Claws
Damage

4

Attacks

2

Targets

Cooldown

1

Range

5

Upgrade/level

+1

Acid spines
Damage

9

Targets

Cooldown

1

Range

7

Upgrade/levels

+1

Meta
Target
priority

20

Kill score

300

Production
score

150
The queen is now a ground unit with an attack consisting of spines launched by the "wings" on its back.
In the June 2012 build of StarCraft II: Heart of the Swarm, the queen had small changes in its appearance, making her similar to the broodmother.[1]
Queens are strong against hellions, mutalisks, and void rays, but are weak against marines, zerglings, and zealots.
A 1:1 ratio of queens to hatcheries will allow the hatcheries to continually produce additional larvae assuming perfect timing of inject larva, though the queen would not be able to generate an energy surplus for other abilities in such a case.
Building excess queens in lieu of or in conjunction with ground units and spine crawlers is a frequent early defense option due to the queen's ability to block small ramps, attack air units, heal with transfusion and later spread creep tumors or relocate to an expansion for larva injection in the mid-game. In addition the queen's lack of an armor type means that few units deal bonus damage to the queen, making her an excellent all-around tanking unit.
The queen's movement speed bonus from creep is much larger than other zerg units, making it especially slow when off of creep, but is fairly quick when on creep.
Blizzard considers Spawn Larva to be harder to use than other race-specific macro mechanics, but believes this balances the easier unit production management.[2]
Production
Edit
The queen emerges directly from the hatchery (meaning it is not morphed from a larva but walks out of the hatchery) and requires a spawning pool. You cannot set a rally point for your queen, they always spawn directly next to the hatchery in available space.
Abilities
Edit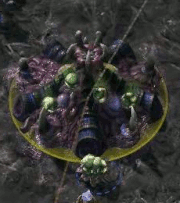 Development
Edit
Achievements and Rewards
Edit
The queen portrait is unlocked when earning the Solo Zerg 250 achievement.
Centurion Queen
Points

10

Criteria

Create 100 Larvae with Queens in a single League game.

Notes

Spawn extra larvae whenever possible. It may also help in getting the Zerg Macro Master achievement.
References
Edit