"Primal Zerg ruminant omnivore. Roams in small herds."
- Quillgor description(src)
Quillgor
Unit
Race
Properties
Sight range

9

Production
Control

1

Movement

Speed

2.0

Protection
Hit points

150

Armor

0

Type

Biological

Armor type

Light

Venomous Quill
Damage

5

Targets

Cooldown

1.15

Range

3
Quillgor are a type of primal zerg found on Zerus.
Several quillgor were killed by the Zerg Swarm when they arrived on their homeworld and harvested them for their meat. Only quillgor alphas provide meat when killed.[1]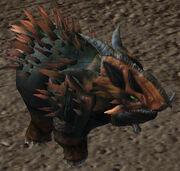 Its name is similar to the quillboar of the Warcraft series.
References
Edit
Ad blocker interference detected!
Wikia is a free-to-use site that makes money from advertising. We have a modified experience for viewers using ad blockers

Wikia is not accessible if you've made further modifications. Remove the custom ad blocker rule(s) and the page will load as expected.