"They fire bile from their backs. I say that counts as poop.
Silva
says it's puke. The debate rages on."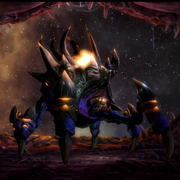 The ravager is a zerg artillery unit evolved from the roach, introduced in Legacy of the Void.
"Now they're sending ravagers our way. Watch out for their corrosive bile."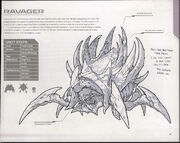 In use by 2505,[1] the ravager is the result of years of twisting and fine-tuning the genome of the roach far beyond its biological limitations.[2] Ravagers stand almost four times as tall as a terran wearing CMC armor, and hardened bone spikes portrude from its back. Its eyes grant it a broad spectrum of vision.[1]
The ravager wields plasma fire both in close-quarters combat and as a wedge to crack open entrenched positions, something the Swarm has struggled with in the past.[2] As an evolution of the roach, the ravager has developed a larger,[3] heavier[2] frame to store quantities of fiery fluid in its back.[3] The ravager can launch a gob of corrosive bile from its back in a parabolic arc. This projectile is slow, best used against stationary targets, but can destroy protoss force fields,[3] and is effective against heavy units and structures. The Dominion has theorized that this ability was developed to boost the ravager's utility in assaulting entrenched positions. This mortar-like ability is slow moving however, and ground forces can move out of the way in time.[1]
Game Unit
Edit
Ravager
Unit
Race
Campaign
Armament

Plasma discharge

Production

Minerals

25

Gas

75

Control

1

Build time

9

Evolves from
Movement

Speed

3.85

Protection
Hit points

120

Armor

1

Type
Plasma Discharge
Damage

16

Targets

Cooldown

1.6

Range

6
Ravagers are stronger than roaches. However, their effectiveness heavily relies on player micro due to their corrosive bile ability.[4]
Abilities
Edit
Launches a glob of bile into the air that descends on target point after 2 seconds, dealing 50 damage to enemies in an area of effect. Hits both air and ground units, destroys force fields.
Usage
| | |
| --- | --- |
| Hotkey | C |
| Range | 9 |
| Duration | 2 |
| Cooldown | 7 |
Co-op Missions
Edit
Abathur is able to mutate his roaches into ravagers in Co-op Missions. Additional upgrades for them unlock at the roach warren once Abathur reaches Level 4.
Increases the damage done by Corrosive Bile by 20.
Campaign Acquisition
| | |
| --- | --- |
| Unlock | Reach Abathur Level 4 |
Increases the radius of Corrosive Bile by 100%.
Campaign Acquisition
| | |
| --- | --- |
| Unlock | Initially available. |
Development
Edit
An upgrade existed[5] that allowed the range of corrosive bile to be increased to 13. It cost 100 minerals and vespene gas. This required a lair.[6]
References
Edit
↑ 1.0 1.1 1.2 Barba, Rick. StarCraft Field Manual (hardcover). Insight Editions, November 17, 2015.
↑ 2.0 2.1 2.2 http://us.battle.net/sc2/en/game/unit/ravager Ravager], Blizzard Entertainment. Accessed on 2016-02-29
↑ 3.0 3.1 3.2 Legacy of the Void Units, Blizzard Entertainment. Accessed on 2015-04-18
↑ Blizzard Entertainment. 2015-03-18. Legacy of the Void Beta Preview. Blizzard Entertainment. Accessed 2015-03-18.
↑ 2015-10-02, Legacy of the Void Beta Balance Update -- October 2, 2015. Blizzard Entertainment, accessed on 2015-10-03
↑ 2015-09-03, Legacy of the Void Beta Balance Update -- September 3, 2015. Blizzard Entertainment, accessed on 2015-09-09
Ad blocker interference detected!
Wikia is a free-to-use site that makes money from advertising. We have a modified experience for viewers using ad blockers

Wikia is not accessible if you've made further modifications. Remove the custom ad blocker rule(s) and the page will load as expected.