Redstone III
Talk

1
5,352pages on
this wiki
"Redstone. Heck of a place. I ever mention how much I hate volcanic planets?"
Redstone III
Astrographical
System
Physical
Dominant terrain
classification

Ash

Tileset(s)

Lava

Societal
Affiliation
Exports

Golden minerals containing jorium

Status

Mining world
Redstone III is a volcanic planet in the Koprulu Sector which has a major geological fracture cataclysm in part of its northern hemisphere.[1]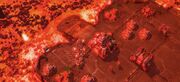 Terran mining guilds vied to secure mining rights prior to the Guild Wars.[1]
The Kel-Morian Combine abandoned the planet in 2504 when the zerg invaded terran space at the start of the Second Great War.[1]
With the planet abandoned, Gabriel Tosh established an operation to mine minerals[1] with trace quantities of jorium.[note 1][2] The mining area suffered frequent lava surges which flooded the low ground where the minerals were, and was threatened by the zerg. Progress was slow. Tosh rejuvenated the effort by hiring Raynor's Raiders, who finished the job.[1]
Redstone was first featured in the Zerg Reveal Trailer.[3]
A miniature dancing Diablo is present on one of the lava-flooded islands.
↑ Conversation with Ariel Hanson after StarCraft II: Wings of Liberty mission, "The Devil's Playground."
References
Edit