Rendezvous is the third mission of Heart of the Swarm.
Background
Edit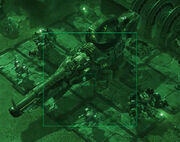 Sarah Kerrigan took the special ops dropship to the rendezvous point, hoping to protect Commander Jim Raynor from the Dominion. She found a Terran Dominion base, armed with a Drakken pulse cannon, which would destroy Raynor's ship. She also found the Naktul Brood.
Broodmother Naktul was happy to see Kerrigan again, and wondered if she would rejoin the Swarm. However, Kerrigan was only interested in destroying the Dominion cannon and ordered them to do so. Naktul informed her that most of her brood was with her, and it would take them time to reach Kerrigan. In addition, three swarm queens were trapped and required assistance.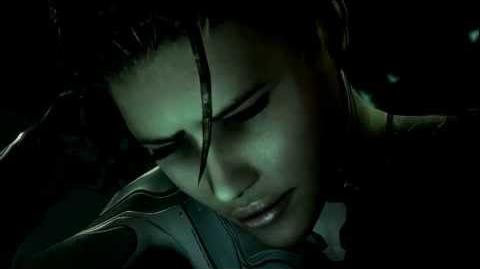 Kerrigan and Naktul's brood continued to discover pockets of Naktul's hidden zerglings. Eventually, the rest of Naktul's brood arrived. Kerrigan led them in an attack on the Dominion, breaking through their defenses, and destroying the cannon.[1]
Walkthrough
Edit
The player starts in control of a small zerg base. The first order of business should be to mutate a spawning pool to allow the mutation of zerglings. Kerrigan will now regenerate health, but at a more rapid rate compared to the zerg. The Dominion attacks regularly, but they can be crippled by using Kerrigan's crushing grip, leaving them vulnerable to the player's zerg. Wraiths will also attack, but a few spore colonies will be enough to fend them off. As the player moves about the map, Naktul will inform them of caves where the Dominion has cornered portions of her brood. Destroying the Dominion forces near these caves will free a swarm queen and several zerglings for the player to control. For the northernmost cave, it is better to approach from the east, as the western path is very heavily fortified.
When the timer ends, several nydus worms will surface around the player's base, and a large number of zerglings and swarm queens arrive under the player's control. With these forces the player should have enough power to assault the main Dominion base. As their forces advance, more nydus worms surface, and eventually Naktul herself will arrive. With these additional reinforcements the cannon and its defenders should fall easily.
Achievements
Edit
First Strike
Points

10

Criteria

Destroy 15 enemy structures before Naktul's forces arrive in the "Rendezvous" mission.

Edit
Zerg Saves The Queen
Points

10

Criteria

Rescue all trapped Swarm Queens before Naktul's forces arrive in the "Rendezvous" mission on Normal difficulty.

Edit
Premature Evacuation
Points

10

Criteria

Destroy all Dominion Structures in the "Rendezvous" mission before Naktul's brood arrives on Hard difficulty.

Edit
References
Edit