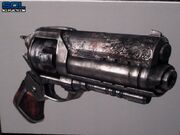 A revolver is a repeating terran firearm that consists of multiple chambers and at least one barrel for firing. Despite being a somewhat outdated weapon design, it can still be found in use in the 26th century, as a sidearm for terran marines.[1] It holds six rounds in its firing chamber[2] and is/can be fitted with a laser targeter above the barrel.[3]
Jim Raynor frequently used a weapon of this type, including a Colt Single Action Army during his days as an outlaw,[4] and a different one by December 2499.[3][5] Genera Carolina Davis was known to wield a Vendetta revolver.[6]
Known Types
Edit
References
Edit

Ad blocker interference detected!
Wikia is a free-to-use site that makes money from advertising. We have a modified experience for viewers using ad blockers

Wikia is not accessible if you've made further modifications. Remove the custom ad blocker rule(s) and the page will load as expected.