Roach Warren
Structure
Race
Properties

Broodlings


produced

6

Production

Minerals

150

Build time

39

Evolves from
Requires

Hotkey

R

Protection
Hit points

850

Armor

1

Type
Armor type
Function
Allows
The roach warren is a zerg structure in StarCraft II. It allows roaches and ravagers to be spawned.
Game Structure
Edit
Researched Upgrades
Edit
Co-op Missions
Edit
Roach warrens are available as a structure for Abathur in Co-op Missions. They do not cost vespene gas, and function as the first tech structure Abathur can construct. Upgrades for the roach and ravager can be researched here. Additional upgrades are unlocked at level 4.
Development
Edit
The following section contains information from a previous version of StarCraft II which is no longer valid.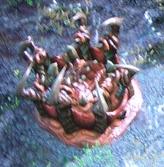 References
Edit
Ad blocker interference detected!
Wikia is a free-to-use site that makes money from advertising. We have a modified experience for viewers using ad blockers

Wikia is not accessible if you've made further modifications. Remove the custom ad blocker rule(s) and the page will load as expected.