The following section contains information from a previous version of StarCraft II which is no longer valid.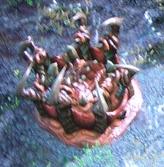 The roach warren was formerly known as the "roach den"[1][2] and "roach nest."[3]
During development, the role of the warren changed several times. Initially the building served as a queen's nest, later repurposed as an ultralisk cavern, and then repurposed again to various other things. Effectively, while the design team liked its look, they had difficulty finding a use for it. Eventually the roach warren was decided upon.[4]
Beta Development
Edit
References
Edit
Ad blocker interference detected!
Wikia is a free-to-use site that makes money from advertising. We have a modified experience for viewers using ad blockers

Wikia is not accessible if you've made further modifications. Remove the custom ad blocker rule(s) and the page will load as expected.