You may be looking for:
The following section contains information from a previous version of StarCraft II which is no longer valid.
Sammy is a planet situated in or near the Koprulu Sector. It possesses a variety of terrains and climates, including desert and tropical forest landforms.
It was set to appear in StarCraft II, but has yet to appear.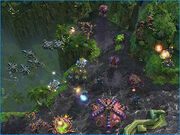 It is possible that this is simply a placeholder name, as not only is "Sammy" an unusual designation for a planet, but few planets feature more than one tileset.
References
Edit
2008-22-06, WWI 08 Coverage - StarCraft II Media. StarCraft Legacy. Accessed on 2008-22-06