Sarah Kerrigan's unit underwent numerous changes during the development of StarCraft II: Heart of the Swarm.
Kerrigan could also increase her health, damage, armor and energy through upgrades unlocked by completing bonus objectives.[1][2]
By May 2011, Kerrigan had four skill sets, although not all had been developed as of then. Other potential skill sets revolved around defenses, comboing with air units, stealth and "roach-burrow supporting Kerrigan".[3]
At some point Kerrigan's game unit appearance evolved as she progressed through the campaign.[4]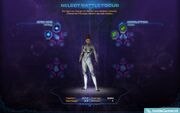 Kerrigan's abilities were divided along the lines of "Corruption" and "Spec-Ops." These two types of abilities tapped into her zerg and ghost aspects respectively.[5]
Corruption
Corruption gave +3 armor.[6]


Spec-Op
Spec-Op gives +50 energy.[6]


Destruction
One of the destruction abilities gave Kerrigan the Crushing Grip ability, which stunned enemies in the area of effect for 3 seconds and inflicted 15 damage over that time.[9]
Psi Bolt
This was an ability that allowed Kerrigan to shoot out bolts of lightning instead of using a gun.[10]
References
Edit