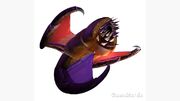 The scourge is an aerial zerg kamikaze strain.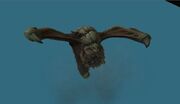 Scourges are blind, suicidal fliers of unknown origin, seeking out enemy starships and diving into them. Catalytic agents within the scourge allow it to undergo a form of plasma metamorphosis, causing it to explode like a living bomb. [1] A single scourge is capable of destroying a terran starfighter or shuttle and a handful can breach the hull of a starship. They are able to engage these targets in both air[2] and the vacuum of space.[3]
The primary drawback of the scourge is its limited ability to store energy, able to fly for barely a few hours without requiring additional substance. To conserve energy, they often perch on the backs of overlords. However, this presents a hazard, as the scourge's explosive nature can damage friendly zerg at this proximity.[2]
Scourges possess a simple genetic makeup, allowing them to spawn in pairs from a single larva similar to that of zerglings.[1] By the Second Great War, scourges could be spawned from leviathans.[4]
Game Unit
Edit
StarCraft
Edit
Scourge
Unit
Race
Role

Biological missile

Armament

Plasma metamorphosis

Properties
Size

Small

Sight range

5

Production

Minerals

12.5

Gas

37.5

Control

0.5

Build time

30

Evolves from
Requires

Hotkey

S

Protection
Hit points

25

Armor

0

Combat
Air attack

110

Attack range

1
Scourges spawn in pairs. Patrolling scourges may help deter low intensity enemy drops. Without supervision groups of scourges tend to lock onto and attack the first target that comes into range which may be overkill against low-HP targets (causing scourges to sacrifice themselves needlessly). Using other units to draw enemy fire may allow scourge to hit.
Corsairs may be micromanaged to negate attacking scourge. If the corsairs are not managed so expertly, armor upgrades may be beneficial for scourges.
If a scourge egg is hatched after the controlling player is eliminated, one will spawn normally but the other will become blue and neutral.
Development
Edit
Originally, scourges were called "avengers." Instead of being produced at a hatchery, they spawned from destroyed guardians.[5]
StarCraft II
Edit
Scourge
Unit
Race
Affiliation
Campaign
Role

Biological air-to-air missile

Armament

Plasma metamorphosis

Production

Minerals

12.5

Gas

37.5

Control

0.5

Movement

Speed

3.75

Protection
Hit points

25

Hit point
regen/second

0.2734

Armor

0

Suicide
Damage

110

Targets

Cooldown

0.86 (used once)

Range

1
Scourges appear in StarCraft II: Wings of Liberty as environmental ambiance in missions[6]; they appear in the protoss mini-campaign[7] and in the Char missions.[4][8] They are last seen as a special form of attack by leviathans, dealing 500 damage each.[4]
In StarCraft II: Heart of the Swarm, scourge are launched from scourge nests as part of scripted events in "Fire in the Sky".[9]
A "scourge spore" exists in Heart of the Swarm beta files.[10]
Co-op Missions
Edit
The scourge is exclusive to Zagara in Co-op Missions, and require a scourge nest to mutate. Upgrades for the scourge are unlocked when Zagara reaches Level 4. As in the original StarCraft, scourge mutate in pairs.
References
Edit