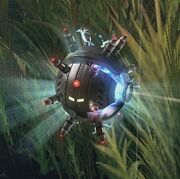 The seeker missile is a thermobaric, laser-guided projectile launched by the raven. It is constructed onboard through hundreds of thousands of AI-operated nanomachines.[1] Once launched, the missile will track its target relentlessly before detonating in an explosion over a wide area.[2]
Game Effect
Edit
StarCraft II
Edit

Seeker Missile
The raven deploys a seeker missile that hovers for five seconds before launching at the target. Deals 100 splash damage against both ground and air unit, in a radius of 2.[3] +35 shield damage is dealt when used in Co-op Missions.[4] The splash damage can damage friendly units. The missile moves at a speed of 2.953.[5]


The missile can be avoided if the targeted unit avoids it long enough. The targeted unit is visually indicated by a red aura.
The missile cannot target buildings.
Usage
| | |
| --- | --- |
| Cost | 125 |
| Range | 6[3] |
| Duration | 15 (increased to 20 with Durable Materials upgrade) |
Wings of Liberty
Edit
In Wings of Liberty, seeker missiles were a projectile with normal speed. When it got within a range of 2 of a target, it would speed toward it becoming impossible to avoid. However, if the target was able to keep out of that range, the seeker missile would break down harmlessly.[6]
Legacy of the Void
Edit
In Legacy of the Void, seeker missiles gain the explosive shrapnel shells upgrade.

Explosive Shrapnel Shells
Increases the damage of auto-turrets and seeker missiles by 30%.
Legacy of the Void only.
Heroes of the Storm
Edit
Seeker missiles appear as the primary attack of the raven mercenaries in Heroes of the Storm.[7]
References
Edit