Shoot the Messenger
Talk

0
4,992pages on
this wiki
Shoot the Messenger

| | |
| --- | --- |
| Conflict | |
| Campaign | |
| Place | |
| Result | Kerrigan victory |

Combatants

Kerrigan

Commanders

Metacampaign
Objective(s)

Intercept Protoss Shuttles (none can escape)

Optional Objective(s)

Destroy 3 Protoss protoss psi spires.

Reward

+3 Kerrigan levels
Zergling Evolution mission

New Unit(s)
Shoot the Messenger directly follows Harvest of Screams. Sarah Kerrigan's forces had to stop the protoss evacuation, otherwise they would alert Shakuras of Kerrigan's activities.
The protoss attempted to flee through three warp portals. As the level progresses, the player is given more complicated tasks. At first, they just need to destroy one shipping lane, but as they gain more troops, multiple armed protoss ships head toward more exits, and the player must destroy all these armed ships too.
Brutal Mode Walkthrough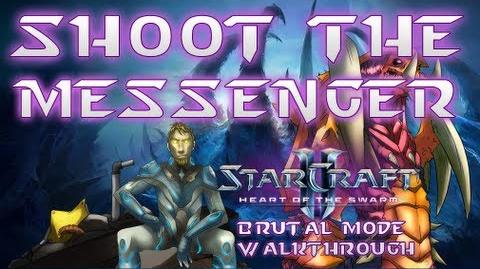 References
Blizzard Entertainment. StarCraft II: Heart of the Swarm. (Activision Blizzard). PC. Mission: Heart of the Swarm, Shoot the Messenger (in English). 2013-03-12.