Shrike turret
Talk

7
4,998pages on
this wiki
Shrike Turret
Structure
Race
Campaign
Base structure
Campaign Cost

5 zerg research points[1]

Combat
Ground attack

6

Cooldown

0.86

Attack range

6

Miscellaneous
Notes

Equips bunkers with an automated gun.
The Shrike turret is an automated gun mounted on top of terran bunkers.
The turret was developed during the Second Great War by Raynor's Raiders, based on research into zerg spore crawlers.[1]
Game Unit
Edit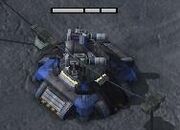 The Shrike turret upgrade is available in the StarCraft II: Wings of Liberty campaign. It is researched in Hyperion's laboratory and costs 5 zerg research points.[1] The player must choose between Shrike turrets or fortified bunkers (+150 hit points, for 550 total).
The Shrike turret has the same damage output and range as a marine in a bunker. This allows bunkers to defend themselves even without units inside them. Bunkers with Shrike turrets benefit more from protection and support while fortified bunkers play the more defensive role for itself and others.
Acquisition
Edit
Shrike Turret

Campaign
Cost

5 zerg research points

Researched at
Notes

Adds an automated turret to bunkers. May not be researched if "fortified bunker" is researched. The design is based on the spore crawler.[1]

Edit
Development
Edit
The following section contains information from a previous version of StarCraft II which is no longer valid.
The turret was once designated the "Mk.8 Shrike automated impaler turret", and it was created by Servo Servants.[2]
References
Edit