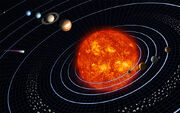 The Solar system is the home planetary system of the terrans.
Situated in the inner rim of the Orion Arm, the system is located some twenty-five to twenty-eight thousand light years from the Galactic Core and sixty thousand light years from the Koprulu sector.
Exploration of the system began in the mid-twentieth century but was curtailed due to budget cuts and political sabotage. Efforts resumed under the United Powers League and colonies were founded on many planets within the system over a forty-year period.
References
Edit
Underwood, Peter, Bill Roper, Chris Metzen and Jeffrey Vaughn. StarCraft (Manual). Irvine, Calif.: Blizzard Entertainment, 1998