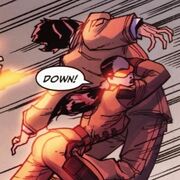 Special Services was a Terran Confederacy bodyguard agency, assigned to protect such high profile targets as senators.[1][2]
It operated on a set of rules and codes.
The Service later operated under the Terran Dominion. Agents were assigned to protect important officials such as Tamsen Cauley—and sometimes to spy on them.[2]
Membership
Edit
Known Charges
Edit
References
Edit
Ad blocker interference detected!
Wikia is a free-to-use site that makes money from advertising. We have a modified experience for viewers using ad blockers

Wikia is not accessible if you've made further modifications. Remove the custom ad blocker rule(s) and the page will load as expected.